Auto Miner
From Electrical Age
Auto Miner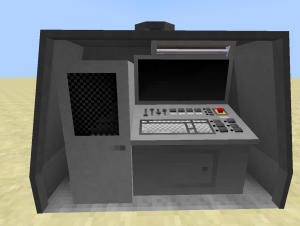 | | |
| --- | --- |
| Block type: | MultiBlock |
| Powered by: | 800 Volts |
| Requirements for operation: | Drill Head & Mining Pipes |
| Stackable: | Yes (64) |
The Auto Miner is a multiblock that when powered with 800 volts and supplied with a drill head and some mining pipes will start mining a 1x1 hole until it mines down 10 blocks. After it has mined down 10 blocks it expands it's mining to a 10x10 hole; this way it won't destroy the landscape and the hole can be easily covered.
Crafting
How to use the Auto Miner:
First make sure you have a drill head and some mining pipes and a chest. The Auto Miner requires 800V in either one of the legs with an electricity symbol. After you have given it 800V it will light up letting you know it's on. Next, put a chest between the two rear legs of the miner (you can also use Buildcraft pipes and the like). Finally, open the GUI and put the drill head and the mining pipes into the correct slots. The miner should then start its mining operations. The current shape of the hole and current operation are displayed on the miner's screen. If you didn't put the chest in the right location or are out of pipes, the miner will throw an error.